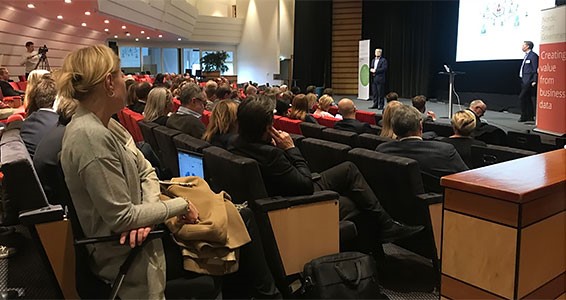 "It is really encouraging to see all the creativity and enthusiasm that is gathered here", comments Thomas Flank, coordinator for Sweden's team at national level. We've been given many good ideas and insights over the two days. Seeing all the different competences gathered here has really made its mark and I am impressed by everybody's willingness to cocreate. About 150 of us took part in total and we have had a very good start to the exciting and important work ahead of us.

From the stage, Eric Thorén and Jan Sjösten presented the Swedish Tax Agency's work with digital information chains and open APIs.
Information and workshops
The two days were split into two blocks. In the first block, participants from Nordic Smart Government gave information about the vision and what it may mean for companies and interested parties within the business sector.
The Swedish Tax Agency and Statistics Sweden told us about their current work within digitalisation and its clear-cut connection to Nordic Smart Government. Steinar Skagemo from the Brønnøysund Register Centre took part in the dialogue day held in Gothenburg and informed us about the current work in Norway. In Stockholm, Tapani Mäkelä from Vero the Finnish tax administration joined us and gave us an insight into their work in Finland.
In the second block, participants were involved in three workshops on the following subjects:
e-commerce
technology and law
what it will mean for the customers – the entrepreneurs
We are now sorting all the ideas and comments
One result of the dialogue days is that we now have a large amount of very useful material containing thoughts and ideas from all the participants. This material will now be organised and used to guide us as we continue the work.
Having workshops during our dialogue days was a real hit, comments Jenny Edin, business developer at the Swedish Companies Registration Office. There is a great willingness to discuss the opportunities and challenges that digitalisation brings. There is also a great openness and willingness to share freely, which is very encouraging. We have a lot of very good input to sort through, analyse and work with. 
Thomas Flank adds: "Those of us in the public sector must create the conditions that the business sector needs in order to realise the Nordic Smart Government vision. It is an established and clear-cut strategy. In view of the creativity and innovativeness shown at the dialogue days, it has confirmed to us that this strategy is sound. Together with the business sector, we are ready to start the work to realise the vision."
Presentations and films from the dialogue days
On bolagsverket.se you can access and download the presentations from the dialogue days. A large part of the dialogue day in Stockholm was filmed and as soon as the editing work is completed we will publish the films, so keep an eye out for them on bolagsverket.se.