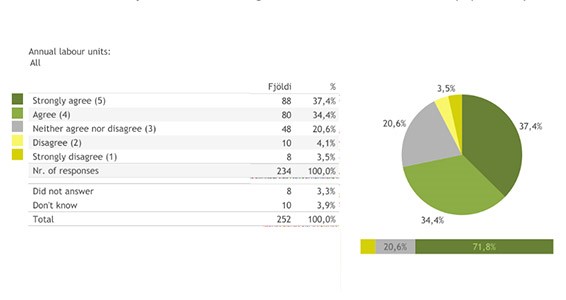 A survey managed by Maskína at the request of the Iceland Revenue and Customs in the context of the Nordic Smart Government project, was conducted 22 January - 4 February. The purpose was to gather information on the main challenges to small and medium-sized companies in their purchases and sales of services in a digital world. 
A total of 252 responded to the survey, which was sent to procuration holders of the companies. Most are owners or CEOs. All of the companies are registered in Iceland and half of them do business with other Nordic countries. The companies have in the range of 1 - 100 employees. Special attention was directed at whether there were differences of opinion related to the number of employees (man years). 
Main conclusions
Among other things, there were questions on financial management, its support systems and services; questions were also asked about sending and receipt of electronic invoices and on provision of information to official bodies.
Financial management 
91% of the companies have some form of bookkeeping, invoicing or business system. Such systems are used without exception by larger companies (10 - 100 man years). The majority of such systems support bookkeeping, sending and receipt of invoices, communications with banks for payments in and out of accounts (such as connections with Internet banks and the reading in of bank entries) and for compiling financial reports. 
One quarter of participants have experience of different systems not communicating with each other which has resulted in a need to manually transfer information between systems. 
48% of the companies receive external assistance with financial management. Analysis based on number of man years shows that smaller companies are more likely to use external assistance than medium-sized companies. Bookkeeping is the task that most companies (90%) have outsourced.
91% of participants agree that financial data is the property of the company and not of the bookkeeper, accountant or software company. 
Sending and receipt of, electronic invoices 
42% of companies always or often send electronic invoices. Fewer companies, just under 35%, always or often receive electronic invoices. Analysis based on the number of man years shows that larger companies receive electronic invoices to a greater degree than smaller companies. 
Those companies that use electronic invoices generally do not experience problems when receiving or sending such invoices, i.e. 9 of 10. 
When asked about the main reasons for not using electronic invoices, factors such as cash transactions; scope of operations (few invoices issued); lack of system and/or system modules for electronic messaging; cost of purchasing the system modules; system limitation; lack of knowledge and time. Participants also give the explanation that electronic messaging has not been adopted because it has not achieved wide distribution in this country. 
 
A large majority of participants, just under 72%, agree that there are great advantages to using electronic invoices instead of paper or PDF documents. When asked whether the company bookkeeper has proposed that electronic invoices be used, more than 44% say that this is not the case. 
* "electronic invoices" in this context means invoices from system to system. 
Provision of information to official bodies
40% spend a significant amount of time in providing information to official bodies. Rather fewer are afraid of making mistakes in this context (30%) and of not remembering to provide information to official bodies at the correct time (31%). 60% say that VAT returns are among the most complex deliverables to the authorities.
Next steps: Reference group 
It is hoped that more companies will join the group using electronic messaging, as the overall advantages are very significant. The conclusions however demonstrate greater use of electronic invoicing than was expected, particularly the receipt of, electronic invoices, which is gratifying.
The survey demonstrated that 90% of companies do not find it difficult to send and receive electronic invoices. It is nevertheless the case that some 10%, do have problems. It would be judicious to find a solution to this problem in consultation with the main stakeholders. 
For this reason, it is one of the first tasks in the Nordic Smart Government action plan for Iceland, to establish a reference group comprised of the main stakeholders, led by Iceland Revenue and Customs, for the purpose of discussing working procedures and uncertainty factors relating to electronic invoices. Uncertainties must be resolved so that company procedures may be consistent with the law, regulations and requirements of Iceland Revenue and Customs.
The author leads the work of the Icelandic NSG national team and serves as a representative in the Nordic programme management group.